10 Totally Awesome Summer Activities for Kids…or Kids at Heart!
We may earn money or products from the companies mentioned in this post.
Whether you're super excited or dreading it, summer IS coming!! As a stay-at-home mom, I seriously look forward to these laid-back days and having the ability to wake up without an alarm clock – I am so so blessed to have kids that will sleep until like 8:30am if I let them. However, as much as I look forward to these days, boredom can set in pretty quickly and the tv can get too much use (admit it or not, I'm sure there are many just as guilty as I am!). In an effort to keep this summer fun and exciting, I'm planning ahead and gathering up ideas for things to do. Here are 10 of the activities I can't wait to do with my boys:
1. This DIY Dinosaur Excavation Sensory Bin from Hello Creative Family.
Ho.ly.mo.ly – my boys are seriously going to lose their minds! They are ALL about dinosaurs these days *and* fancy themselves as scientists. WIN WIN!
2. Make ice cream in a bag using directions from Growing a Jeweled Rose.
Because, really, is there really anything as refreshing as a frozen treat in the summer?!
3. Make a pool noodle sprinkler from Ziggity Zoom.
Genius!!! Pool noodles are super cheap and it won't take much time to make this sprinkler!
4. Make toilet paper roll binoculars from Mom to 2 Posh Lil Divas
Lord knows my kids use enough toilet paper in less than a week to supply the rolls for this project. They'll love going on outdoor treasure hunts with their homemade binoculars.
5. Make and race toy boats from Inner Child Fun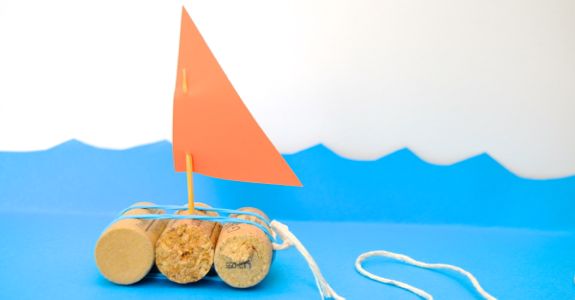 See what makes these float? Corks. This is a project that'll be fun for the kids AND parents 😉
6. Paint the driveway with ice chalk from Arty Mommy
It's literally cool and a great way to get some artistic energy out!
7. Launch a bottle rocket from Frugal Fun for Boys and Girls
My little scientists will LOVE this!
8. Create your own Fireworks Salt Painting from Busy Mommy Media

I know I already have all of the materials in my house, so that's a major bonus! I would totally this outdoors for a no-mess cleanup!
9. Blow bubbles with this diy bubble solution recipe from Busy Kids Happy Mom
We go through approximately a TON of bubble liquid (is that what you call it?!) in the summer. This recipe is super dupe easy, just remember to make it a few hours ahead to make sure it's ready!
10. Up your sidewalk chalk game with these genius chalk ideas from What Moms Love
Um. Hello there…chalk is pretty much a staple during our warm weather days. I know my guys will especially love creating their own chalk backgrounds!
Hope you and you littles have a blast trying out these activities!! Did we miss your favorite outdoor activity? Share it in the comments!